Filed Under News | Leave a Comment
In part 2, the mechanic from ExpertVillage pontificates on the pros and cons of tubed and tubeless tires for mountain bikers.
If you missed Part 1introduction tubeless tires, you can get it here: Part 1: Tubeless Tires Visually Explained

The mechanic from ExpertVillage gives a nice introduction to tubeless tires. It's great for those of us who like to ingest information without reading it.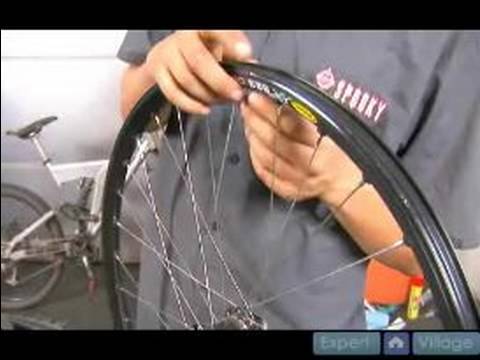 mmm… passive learning.
This is probably the most ludicrous example of why you need to go tubeless. If we all road tubeless and the roads were made of paths of death, there'd be a lot more room for bicyclists. We'd all be really good at trackstands too.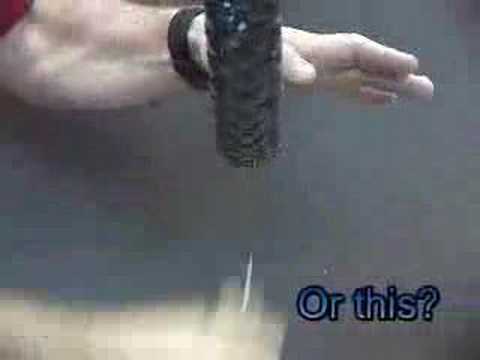 Really, really good at trackstands.
They're using Stan's NoTubes sealant. Can anyone identify the tire by the tread?
Filed Under News | Leave a Comment
After posting about the Shimano/Hutchinson wheelset, I came across Mavic's work on a new road tubeless wheelset. I've heard that some riders rode these on this year's Tour de France.
Bicycling.com's article on the Mavic tubeless wheelset.
Filed Under News | Leave a Comment
It's about time we start seeing more tubeless options on bikes sold by the major bike manufacturers. Well Pacific Cycle has outfitted their high-end Mongoose Canaan Team with weight-weenie Stan's NoTubes ZTR Olympic Disc rims on Ringle Dirt Flea hubs. Hotness.
Read more here: Mongoose Canaan Elite/Team review at Bicycling.com
At Interbike 2007, Stan's introduces a tubeless conversion kit for clincher wheelsets. Basically it is the same setup as with his mountain bike tubeless conversion kit. Run a tubeless valve stem, 60 ml of Stan's sealant, and Hutchinson's new Fusion 2 Road Tubeless clincher on a solid rim wall wheel like the Mavic Kysrium or Fulcrum wheelsets. Some wheelset will require Stan's sealing tape. Stan says the key is the new non-stretching carbon fiber bead in the Fusion 2 tire. He cites better air retention and near-instant sealing repair as the main benefits. Reported by Cyclingnews.com
Filed Under News | 4 Comments
Ladies love hot bikes. Ladies love pink. So a pink bike is good for anyone. This year's Speedgoat Bicycle raffle features a decked out custom pink ride with tons of custom colored parts. All proceeds go to the Breast Cancer Fund. Each ticket is $10, so buy your chance today.
This year's bike features a custom XC frame from BMC, Fox's 32 Float 100RLC fork and rear shock, pink Chris King hubs, and a SRAM X.0 drivetrain. Other parts were donated by Hope, Oury, Thomson, RaceFace, and Velocity. All in all it will be a incredibly sweet ride for anyone. Just don't forget to convert those Velocity rims to tubeless.
I only wish the color was closer to the CK hubs rather than Pepto Bismol.
Would you ride it if you won it?
Filed Under News | Leave a Comment
BikeMagic had this great article about the Cape Epic. Riders, Loan Burger and Reynard Van straaten, decide to tackle the eight day grueling race across South Africa. Racing on a wide variety of terrains, Loan rides tubeless, but Reynard doesn't. Until Loan gets tired of changing flats that is.
We had a nice chat up the hill and so managed to climb the monster – we passed the last water point and only had the "Ou Wa Pad" left to climb. Then it happened. A puncture! Reynard was not riding tubeless, and it was at this stage that he understood why I insisted that he invests in some before the race. He had his first of what would be three punctures during this year's Epic.
Day two had similar events occur:
Day two was to be the longest stage of this years Cape Epic. And as luck would have it, right on the start line Reynard had his second puncture. So when all the other riders went off we were sitting next to the start line fixing yet another tube. We eventually got going, but had some work to do.
Day three, Reynard gets converted to tubeless:
This time I made sure Reynard was properly prepared, having given him my spare set of tubeless wheels to use. We're not planning on having another puncture today.
With only one more puncture over the next 5 days, the pair finished a great race. Congratulations!
Read Loan Burger's full story. Check out his 2007 machine too. Nice.
Filed Under News, Reviews | Leave a Comment
Guitar Ted gets some sample Bontrager Dry-X 29ers and gives an initial review:
These are the Tubeless Ready Bontrager Dry X tires. The weight on my samples is 620 grams each, which is super light for a 2.1″ 29″er tire.
Here's his first impressons of the new tire:
it's a tight fit! … These tires and wheels are fast!
These are some very light new tires from Bontrager. Things are definitely getting interesting for 29ers.
29er lovers will soon have some new toys from Mavic and Hutchinson. Mavic's new Crossmax 29″ rim, C29ssmax, and Hutchinson's 29er Tubeless ready Python with the NG's dual compound technology. Mmm.. fun.
You wished, you whined, you waited… and now the wait is over. Two French companies have again joined forces for another UST tubeless project, only this time the players are Mavic and Hutchinson (instead of Michelin) and the rim is sized for 29″ tires instead of 26″ ones. Part of the long delay in developing the new bits was reportedly due to the lack of a 29″ UST rim and bead standard that all industry players could agree upon, but with that issue settled, the ball is officially rolling.

The new Mavic C29ssmax is essentially a 29″ version of the Crossmax SL: Zicral aluminum spokes are arranged in Mavic's new Isopulse lacing pattern, and join the milled Maxtal rims to the latest generation of FTS-X hubs. The C29ssmax rims will also use the FORE drilling process to retain a solid (and airtight) outer rim wall. Quoted weights for the set are 1660g and 1745g for the quick-release and 20mm versions, respectively.

The new wheels will be disc-compatible exclusively, and only with six-bolt rotors. However, Mavic will offer both standard quick-release and 20mm thru-axle front wheels. Each version will use a dedicated non-convertible hub in order to optimize spoke flange spacing, and both sets will carry a retail price of US$775.

The Python 29×2.10″ will use Hutchinson's new Tubeless Ready configuration which incorporates a UST bead with a standard casing. As on other such tires, users can opt for either a standard inner tube or can convert the tire to true tubeless capabilities through the use of an approved sealant (Hutchinson's own Fast'air, in this case). At 645g and US44.95 each, Hutchinson claims this setup saves as much as 160g per tire as compared to standard UST.

Hutchinson will offer just one 29″ tire for now, but additional models are sure to follow. More importantly, though, the establishment of a true UST standard means that more tubeless 29″ tires will also arrive shortly from a variety of other manufacturers.
Announced at Sea Otter by cycling news.
keep looking »